SEEBURGER recognized for its ability to execute and completeness of vision
10/14/2019
Bretten – SEEBURGER AG, a global leader in business integration, announced today SEEBURGER's recognition in the Gartner Magic Quadrant 2019 for Full Life Cycle API Management1 following an evaluation of its ability to execute and completeness of vision. In the report, Gartner analyzed the company's API Management offering, a part of SEEBURGER Business Integration Suite (BIS).
More than half of SEEBURGER´s fast growing API management revenue comes from outside the company's home country Germany, and pursuit of international growth forms the basis of its strategy. SEEBURGER believes it has been recognized by Gartner due to its global success.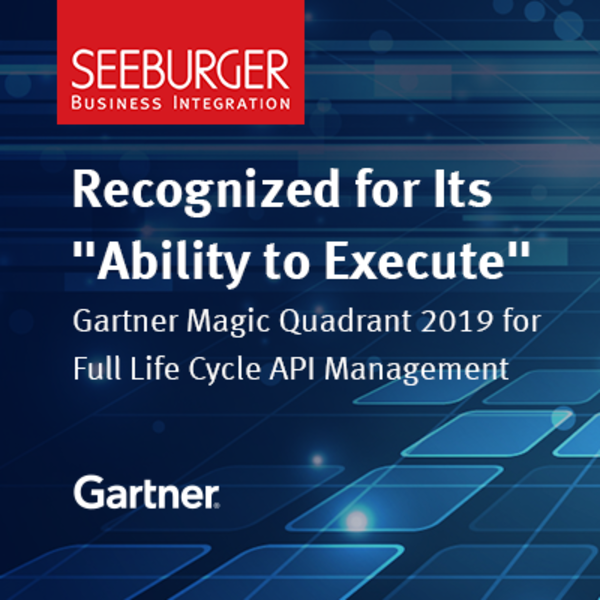 SEEBURGER's innovation

With approximately 10,000 customers, operating worldwide, SEEBURGER provides API Management as part of a comprehensive hybrid business integration platform.
SEEBURGER BIS is a business integration platform that takes a blended approach to integration on-premises, in hybrid setups or in the cloud/as an iPaaS; it supports B2B/EDI, MFT, e-Invoicing, IoT, API and Enterprise Application Integration (EAI) use cases, relevant HIP capabilities and pre-packaged industry solutions (Open Banking etc.).
BIS has been built from scratch over the years, and is engineered by SEEBURGER in its headquarters in Germany.
"We are honored and pleased to be recognized by Gartner for Full Life Cycle API Management. To us, this recognition is a major milestone as part of the ongoing SEEBURGER business strategy and innovation of the SEEBURGER Business Integration Suite," said Matthias Feßenbecker, CTO, SEEBURGER AG.

To learn more about SEEBURGER BIS and Full Life Cycle API Management Solutions read the report.
A complimentary copy of the Magic Quadrant for Full Life Cycle API Management can be downloaded here.
[1] Gartner, "Magic Quadrant for Full Life Cycle API Management", authored by Paolo Malinverno, Mark O'Neill, Aashish Gupta, Kimihiko Iijima, published 9 Oct. 2019
Welcome to WordPress. This is your first post. Edit or delete it, then start writing!